MSSQL Server Microsoft .NET Framework hatası
Microsoft SQL Server 2012 'yi yükleme esnasında şöyle bir hatayla karşılaşmıştım;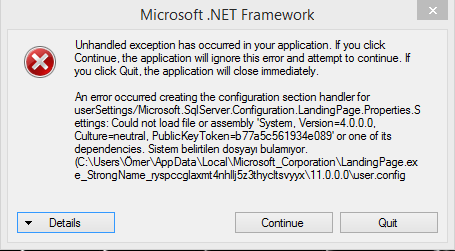 Unhandled exception has occurred in your application. If you click Continue, the  application will ignore this error and attempt to continue. If you click Quit, the  application will close immediately.

An error occurred creating the configuration section handler for userSettings/Microsoft.SqlServer.Configuration.LandingPage.Properties.Settings: Could not load file or assembly 'System, Version=4.0.0.0, Culture=neutral, PublicKeyToken=b77a5c561934e089' or one of its dependencies. Sistem belirtilen dosyayı bulamıyor.
Bu hatanın sebebi var olan Microsoft_Corporation isimli dosyaymış. Bu dosyayı kaldırdığımızda hata da ortadan kalkıyor.
Bu dosyayı aşağıda belirtilen yerden
c:users%kullanıcıadınız%appdatalocal
ya da şu komutları kullanarak Başlat > Çalıştır > cmd
rd /S C:Users%kullanıcıadınız%appdatalocalMicrosoft_Corporation
silebilirsiniz.
MsDos komutları ile ilgili ayrıntılı bilgi için ; Tıkla
Edit: appdata dosyasının bulunamadığına dair mesaj aldım. Sebebi dosyanın gizli olmasıdır. Çözüm için aşağıdaki resimdeki adımları uygulayabilirsiniz.